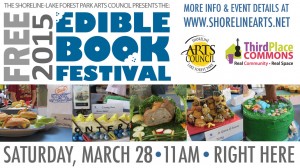 It's another eclectic Saturday at Third Place Commons, starting with some edible books.   What, you might wonder, is an edible book? It is a dessert, appetizer, main or side dish inspired by a book. During a festival, edible books are displayed, admired, judged – and then eaten.  Join us for a fun and tasty event, or enter your own creation. Sponsored every year about this time (not accidentally the weekend right before April Fools Day) by the Shoreline-Lake Forest Park Arts Council. the clever entries are guaranteed to amuse, and to get creative juices flowing for next year.
The Festival is on Saturday, March 28 from 11 am to 2 pm.  If you would like to participate in the dismantling of the entries – i.e. eat them – plan to come around 1 to appreciate them first, and then dig in.  Yum!

And then from 3 to 4 pm, the Commons comes alive with the sounds of  recorder music from around the world.  March is "Play the Recorder Month" – established by the American Recorder Society.  All ages are welcome.  Activities for young children to enjoy!
But wait, there is more!  At 7:30, we welcome the Ian McFerron Band back to the stage.  Even though he hearkens from these parts, Ian has dedicated himself to building audiences the old fashioned way: on the road. Traveling from city to city, state to state, nation to nation, McFeron performs an average of 200 shows a year spread throughout the United States and Europe, inspiring listeners with his beautifully crafted songs and honest narratives. So this weekend, Ian is on the road at home, and will be joined by Alisa Milner, a Lake Forest Park resident, and Texas-style fiddler, cellist, and harmony vocalist.