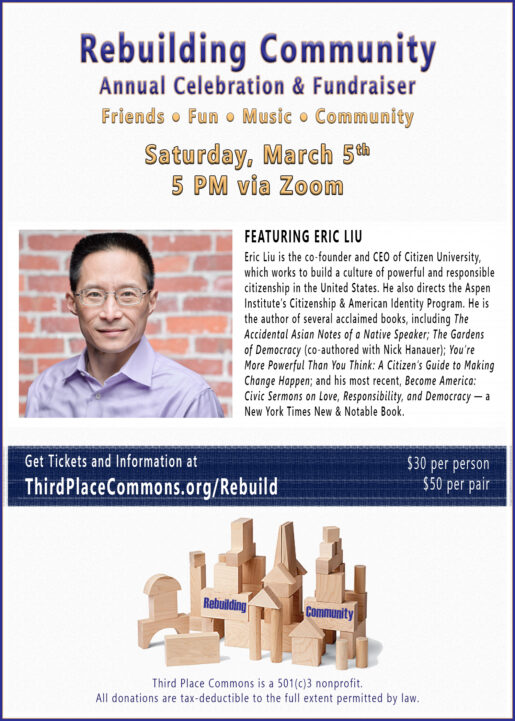 REBUILDING COMMUNITY
Annual Celebration & Fundraiser 
Saturday, March 5
5:00 – 6:15 PM
$30 per person
$50 per pair
Join us for our virtual celebration when we join with friends to laugh together, visit, and most importantly, rebuild community.
We all miss our Commons Community, so we'll have social time, of course! Plus, we'll enjoy some great Commons music, a bit of "trivial" fun, and an amazing, featured speaker, Eric Liu, co-founder of Citizen University and Civic Saturdays (full bio below).
Community Rooms Are Back! 
When you buy your tickets, be sure to let us know if you were invited by someone in particular so we can help you get to their party room during social time.
The Video Room will be open, too, for folks who would rather chill than chat!

Prefer to pay by check? Send a note that includes your full name and email address as well as your guest names, their corresponding email addresses (for the event link), and a check for the appropriate amount payable to "Third Place Commons" to:
Third Place Commons
PO Box 82355
Kenmore, WA 98028
Access to the Event:
All registered guests will be sent an access link during the week prior to the event via the email address used for registration. Please ensure that all guest emails are also submitted when you register so they also receive the link.
Questions? Email Kim Caudill at [email protected] for assistance.
Meet Our Speaker: Eric Liu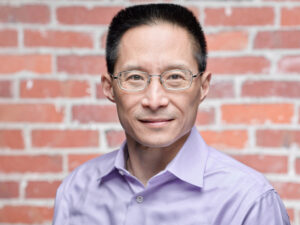 Eric Liu is the co-founder and CEO of Citizen University, which works to build a culture of powerful and responsible citizenship in the United States. He also directs the Aspen Institute's Citizenship & American Identity Program. He is the author of several acclaimed books, including The Accidental Asian Notes of a Native Speaker; The Gardens of Democracy (co-authored with Nick Hanauer); You're More Powerful Than You Think: A Citizen's Guide to Making Change Happen; and his most recent, Become America: Civic Sermons on Love, Responsibility, and Democracy — a New York Times New & Notable Book.
He has been selected as an Ashoka Fellow and a member of the American Academy of Arts and Sciences. He is featured on the PBS documentary American Creed and is a frequent contributor to The Atlantic. Liu served as a White House speechwriter for President Bill Clinton and as the President's deputy domestic policy adviser. He was later appointed by President Obama to serve on the board of the Corporation for National and Community Service. He and his family live in Seattle.