We have lots of fun in store for everyone at this Sunday's Farmers Market.  It's Family Day!

For your musical enjoyment, Quichua Mashsis will play music from the Andes all day. This special performance is made possible by the Shoreline-Lake Forest Park Arts Council.
Drop by the City Tent to meet representatives of the City of Lake Forest Park, the Police, and Northshore Fire Departments. LFP residents, learn about stormwater and get a Chinook Book app. Fun treats in store for everyone!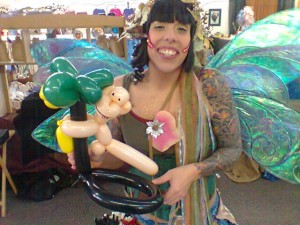 Clover the Balloon Fairy works her special magic as she makes balloon animals.  But shhhhh  . . .  Clover is a fairy and won't say a word.
Climb inside a fire truck!  The Northshore Fire Department will have a truck in front of City Hall from 10 am to noon.
Pet a Llama!  Nona and her friends Mickey and Max will visit the market from noon to 1 pm.
And please stop by the community tent to welcome our day sponsor, the Lake Forest Bar and Grill.  Did someone say coupons? 

As always, the Lake Forest Park Farmers Market is open from 10 am to 3 pm.  We can't wait to see you there!