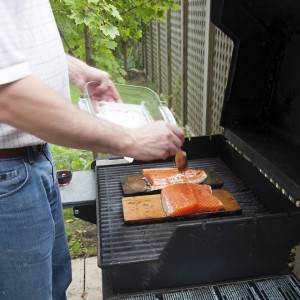 We love celebrating special occasions at the market!  This Sunday, June 21st, is Father's Day, and a perfect time to pick up the makings of a farm-fresh celebratory dinner.  Even if dad is still in charge of the grill, he will appreciate a salmon filet from Wilson Fish, or something delicious from R Heritage, Martiny, or Samish Bay for the barbeque.  Pick up salad makings, fruit, and ice cream for desert, and you have a feast fit for a king.
Our friend Pam Wilmot is bringing her alpacas for a visit again this weekend.  And from 11 am to 1:30 pm, the Milner Family Fiddles perform next to City Hall.  These talented folks take the Commons stage every other month, but bring their instruments outdoors in June, a new Father's Day tradition in the community.

And this Sunday, we have two day sponsors.  Windermere agents will be in the community tent, and can answer all your questions about local real estate.  And our friends from Mud Bay will be on hand – paw! – to hand out treats to our canine visitors, and give you great tips about summer care for your animal companions.

We look forward to another fun market, and wish all the dads out there a happy day!