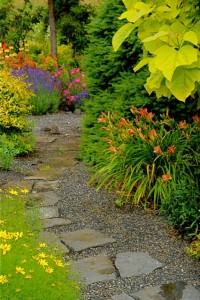 Are you ready to tour six beautiful gardens?  Summer came early this year, so these will be at their seasonal peak!  Please join us on June 20th for the 13th annual Secret Gardens of Lake Forest Park Tour.
As always, there will be musicians and artists in each of the gardens.  And while we can't give details away – these are secret, after all – we can tell you that there will be gardens of different sizes to inspire you, whether you have acres to tend, or a tiny space to beautify.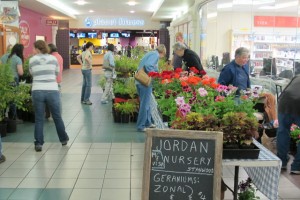 From 9 am to 4 pm, you can visit the lower level of the Town Center to purchase plants and art for your own garden.  You are sure to find treasures, from natives to unusual perennials you are not likely to see in the nursery.  And the best part is that you can talk with vendors to find out how best to take care of your new plants.
And you might be surprised who you bump into at the sale or in the gardens.  This year, Ciscoe is unable to broadcast from the Town Center, but he may just turn up to surprise us during the day.
You can purchase your tickets online, or at one of many convenient locations listed on the website.  And what a deal!  Buy now and you will pay $12, or purchase at the event for $15.  We are looking forward to a beautiful day, and hope to see you!