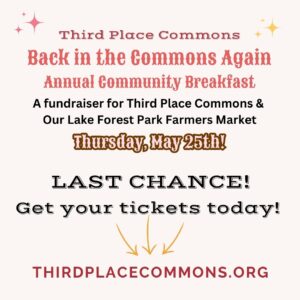 Our big Back in the Commons Again Annual Community Breakfast is coming up this Thursday, May 25th at 7 AM, which means this is officially your last chance to get tickets!
This grand annual tradition provides vital operating funds to support the Lake Forest Park Farmers Market and other beloved programs of Third Place Commons, including live music every weekend, community fairs, personal enrichment programs, and much more.
Get your ticket here to join in the festivities including:
A delicious breakfast courtesy of Honey Bear Bakery
A fun, fast-paced live auction led by Auctioneer Ken Carson (Field Host for the Seattle Sounders)
Presentation of the Friends of the Community Award to the LFP Climate Action Committee
Live music from Glen Milner and Alisa McFeron of The Milner Family Fiddles
A joyful reunion with our wonderful Commons community
The opportunity to provide vital operating support to Third Place Commons and the Lake Forest Park Farmers Market!
Community support makes everything at Third Place Commons possible, from fostering a welcoming gathering space to hosting endless free events to offering the LFP Farmers Market each year.
The generous support of sponsors ensures that all proceeds from the breakfast benefit Third Place Commons, a 501(c)(3) nonprofit organization, its flagship program the Lake Forest Park Farmers Market, and hundreds of other free events each year.
Special thanks to Platinum Sponsors Honey Bear Bakery, Shoreline Community College Foundation, and the Town Center at Lake Forest Park (owned by Merlone Geier Partners), whose ongoing partnership and support are greatly appreciated.
Third Place Commons fosters real community in real space, and your support makes it possible. So get your ticket today!