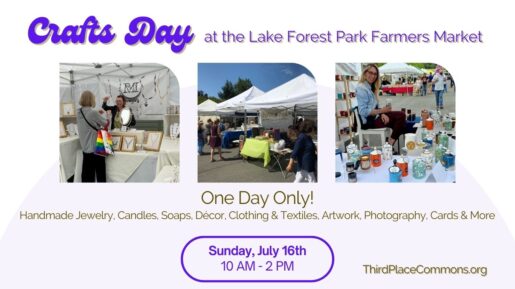 Mark your calendar and make a plan to head to the Lake Forest Park Farmers Market this coming Sunday, July 16th from 10 AM – 2 PM for a fantastic day of craft shopping on top of all your regular market favorites.
Crafts Day at the LFP Farmers Market is your once per summer chance to shop a wide array of jewelry, clothes, greeting cards, leather goods, home décor, soaps, candles, photography, unique art, and other original handicrafts by local creatives from across the region.
It's peak produce season, so while you're at the market, stock up on your healthy summer snacking like delicious cherries, berries, and other fresh fruit from Hayton Farm, Sidhu, Martin Family Orchard, EF Produce, and Bautista. (Get there early for the best selection.)
Get your favorite row crops from folks like Alvarez and Garden Treasures. And in case you haven't heard, the yellow school bus is back so stop by to say hello to (and shop with) Gypsy Rows.
If you need a hearty main dish, stop by La Pasta, Wilson Fish, Well Fed Farms for chicken and eggs (plus veggies), and Mollie Bear Farms for beef and lamb. Then complement your meal with fresh sourdough bread from The Tiny Kitchen.
Irresistible sweet stuff will be on offer from Seattle Pops, Flutterby Sweets & Treats (iced cookies), Browned & Toasted (luxury crispy rice treats), and Kettle and Pop Kettle Corn. All this plus stunning flowers, adult beverages, specialty items galore, hot food, and more.
The LFP Farmers Market, a program of Third Place Commons, takes place every Sunday from 10 AM to 2 PM. But Crafts Day at the LFP Farmers Market is a one-day-only event on July 16th, so don't miss it!