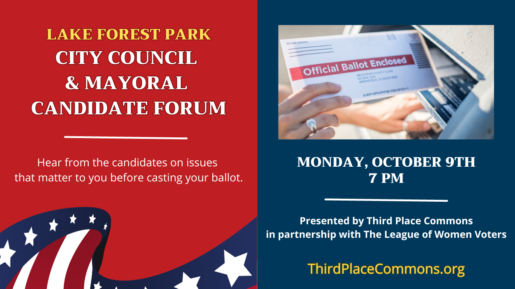 If you live in Lake Forest Park, don't cast your ballots this fall without hearing from your local candidates at the Third Place Commons City Council and Mayoral Candidate Forum on Monday, October 9th at 7 PM.
Don't miss your chance to hear from the candidates who may play an integral role in the future of Lake Forest Park. Hear from each of the candidates about their positions on local issues of critical importance to you and your community.
The forum will be moderated by a representative from an outside chapter of the nonpartisan League of Women Voters. The forum will follow their standardized format allowing for each candidate to answer each question in timed responses.
Questions will be asked by the moderator and include both questions prepared by the moderator in advance, based on current issues facing the community, and those solicited in writing from the audience at the event.
All candidates for mayor and city council have agreed to participate.
Video recordings will not be permitted per League rules based on FCC regulations regarding unauthorized recordings of debates. Still photography is permitted providing it is not disruptive to the event or audience. All camera sounds should be turned off.
This important community event is hosted by the Board of Directors of Third Place Commons and takes place on the Third Place Commons stage at the Town Center at Lake Forest Park, located at 17171 Bothell Way NE.
Third Place Commons is a community-supported 501(c)3 nonprofit organization that has been building community in the heart of Lake Forest Park for more than 20 years. Third Place Commons fosters real community in real space by hosting hundreds of free events for audiences of all ages, and through its largest program, the Lake Forest Park Farmers Market. To learn more, or to make a gift of support, visit our homepage.