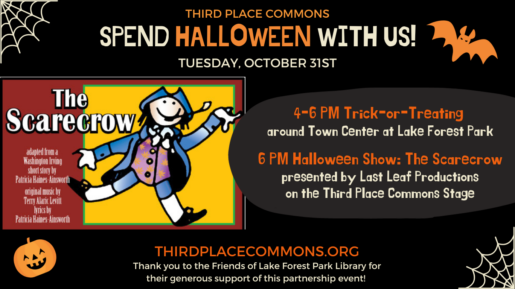 There's no better place to spend Halloween night with the family than with us at Third Place Commons!
The fun begins on Tuesday, October 31st with trick-or-treating all across Lake Forest Park Town Center from 4 to 6 PM. Don't miss the perfect spot to load up on candy in a safe, dry, well-lit setting with lots of other families joining in the festivities.
Participating merchants are still being added daily, but below is a partial list of participating vendors (we'll continue to post updates right up until the big event):
A Better Day Salon
Albertsons
Avid Angler Fly Shop
Chocolate Man
Dumpling Generation
Everest Kitchen
Gyro Boss
Honey Bear Bakery
Lake Forest Bar & Grill
Lake Forest Park Library
Lina's Bakery
Mud Bay
Needles and Hooks
Nekter Juice Bar
Papa Murphy's Take 'N' Bake Pizza
Planet Fitness
Red Sky Gallery
Rite Aid
The Shop by DBD
Shorelake Arts Gallery
Subway
Third Place Commons
Third Place Books
Vulpine Taproom
Westlake Hardware
Wild Birds Unlimited
Following trick-or-treating at 6 PM, head to the Third Place Commons stage for "The Scarecrow," an all-ages family friendly show perfect for Halloween night!
"The Scarecrow" is an original musical comedy based on a short story of the same name by Washington Irving. It's the story of a poor widow forced to leave town by a pompous mayor and his daughter. A group of mysterious little men in the Catskills take pity on her and give her a magic pipe that breathes life into a scarecrow she creates for company. What will happen when the widow sends the scarecrow into town to embarrass the mayor? Join us to find out!
"The Scarecrow" presented by Last Leaf Productions is sponsored by the Friends of the Lake Forest Park Library, so thanks to them for making this fantastic, family event possible.
And remember that events at Third Place Commons are always free and open to everyone, so don't miss the fun. Join us!
Third Place Commons, a community-supported 501(c)3 nonprofit organization, has been building community in the heart of Lake Forest Park for more than 20 years. Third Place Commons is located in Lake Forest Park Town Center at 17171 Bothell Way NE, Lake Forest Park 98155. To learn more or to make a gift, click here.