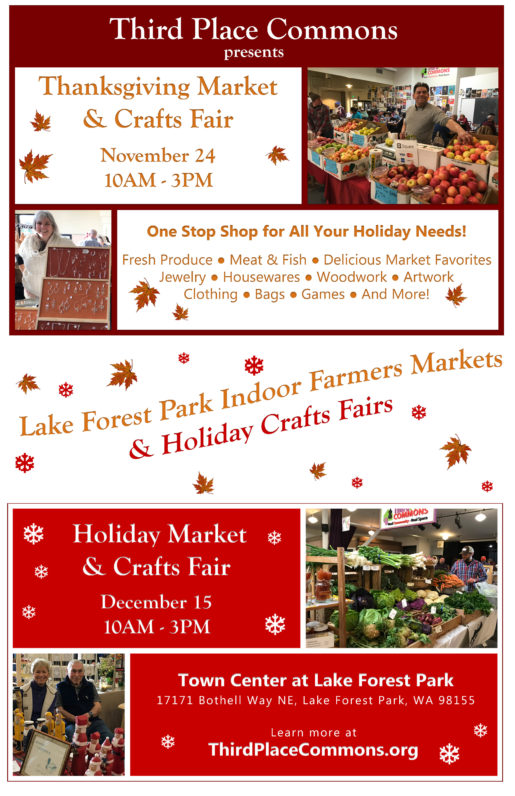 'Tis the season for holidays galore. And they won't be complete without pre-holiday stops at two special indoor editions of the Lake Forest Park Farmers Market plus two fantastic crafts fairs for all your shopping needs.
The annual Thanksgiving Farmers Market & Crafts Fair will take place on Sunday, November 24th, while the Holiday Farmers Market & Crafts Fair will take place on Sunday, December 15th. Both events will run from 10 AM to 3 PM.
Lovers of the LFP Farmers Market already know that you can always find a dizzying selection of farm fresh produce, meat, and eggs (much of it organic), plus fan favorites like jams, pretzels, baked goods, pickles, honey, and more. All will be on hand for the special indoor markets at Third Place Commons.
And you'll definitely make your holidays more festive with wine and gorgeous, fresh wreaths from the market!
While you're there, be sure to leave yourself plenty of time to shop the fabulous holiday crafts fairs downstairs in the lower lobby.
As always, the crafts fairs will be overflowing with originality and beauty in a virtually endless array of unique artwork and handicrafts made right here in Washington State. Shop the market for jewelry, art, housewares, home decor, woodwork, photography, clothing, bags, soaps, games, holiday novelties, and more!
But be warned, a number of great vendors are there for just one fair or the other, so be sure to visit both dates so you don't miss anything!
Whether you're shopping for your family elders or the littlest tykes in the house, your best friend or an office full of colleagues, yourself or your other half – there will be something for everyone at the holiday crafts fairs. So mark your calendars for both dates and don't miss these grand annual traditions!
The Lake Forest Park Farmers Market and Holiday Crafts Fairs are presented by Third Place Commons, a 501(c)3 nonprofit organization located in the Town Center at Lake Forest Park, 17171 Bothell Way NE. Third Place Commons is a community gathering spot that hosts over 900 free events each year.