Every December at Third Place Commons is a busy one. Holiday events abound, this year more so than ever! The month is filled with music, dance, family-friendly programs a-plenty (including Caspar Babypants!), and one more beloved farmers market and crafts fair.
Here's a quick look at a veritable feast of holiday fare to get you in the spirit, keep your guests entertained, and put a song in your heart throughout this hectic, and sometimes stressful time of year:
• Sat, Dec. 7 at Noon – Lisa Toner Violin Recital• Sat, Dec. 7 at 4 PM – Northwest Ballet Center Winter Holiday Showcase (first of two performances)
• Sun, Dec. 8 at 12:30 PM – Nathan Hale Music Program
• Sun, Dec. 8 at 4 PM – Christmas Piano Recital
• Tue, Dec. 10 at 10:30 AM – Caspar Babypants
• Sat, Dec. 14 at 1 PM – Northwest Ballet Center Winter Holiday Showcase #2
• Sat, Dec. 14 at 4 PM – WA School of Dance: Oh What Fun!
• Sun, Dec. 15, 10 AM – 3 PM – Lake Forest Park Holiday Farmers Market & Crafts Fair*
• Wed, Dec. 18 at 7:30 PM – The B-Minor Quartet
• Fri, Dec. 20 at 11 AM – Once Upon a Time in Space: A Play for Kids!
• Sun, Dec. 22 at 2 PM – Shoreline Junior Strings Concert
• Sun, Dec. 22 at 5 PM – Ukulele Holiday Play-Along, Sing-Alone Gathering
*Be sure to make special note of the last LFP Farmers Market (indoor) and Holiday Crafts Fair of the year, which will take place on Sunday, Dec. 15th. Not only will it be a day full of fabulous farm fare and unique and wonderful gift shopping, but it will also be a day of music. The Milner Family Fiddles will play from 11-12:30 while the B-Minor Trio of string musicians will perform from 1-2 PM.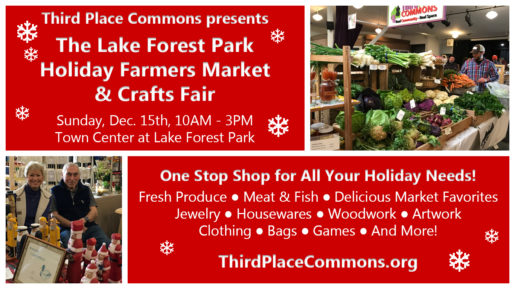 As always, Third Place Commons will have great live music and an open dance floor every Friday and Saturday at 7:30 PM. Here's the December line-up:
• Fri, Dec. 6 – Market Street Dixieland Jass Band (Swing Plus)
• Sat, Dec. 7 – 85th Street Big Band (Swing, American Standards)
• Fri, Dec. 13 – Ҫa Gaze (French Gypsy Jazz)
• Sat, Dec. 14 – Honky Tonk Sweethearts (Rockabilly)
• Fri, Dec. 20 – Michele D'Amour and the Love Dealers (Funky Blues)
• Sat, Dec. 21 – Jazz Misfits (Jazz Fusion)
• Fri, Dec. 27 – The Rece Jay Band (Roots/ Americana)
• Sat, Dec. 28 – Purple Passion Swing Band (Big Band/Swing)
Of course, all of this is on top of the regular weekly and monthly line-up of foreign language conversation groups, play and learn sessions, Mahjong Mondays for seniors, game nights, tai chi on Saturdays, art-ins, computer Q&A, and so much more!
Get the full details on all of these events on the Third Place Commons online calendar.
Did you know…
Third Place Commons is a community supported, 501(c)3 nonprofit organization dedicated to fostering real community in real space through the Lake Forest Park Farmers Market and hundreds of other free events each year. See you at the Commons!