Dina Blade and Swingin' in the Rain "Swing" – Friday, August 15th  @ 7:30
Island Jazz Quintet "Jazz" – Saturday, August 16th @ 7:30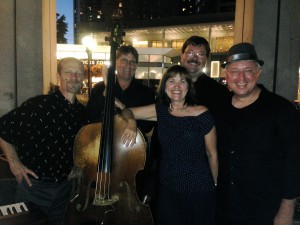 Dina Blade, (of Swingin' in the Rain) is a refreshingly natural singer with a great sense of time and swing who specializes in singing American popular songs from the 1930s and 40s,preserving the work of master composers and lyricists from that era. An effervescent performer, she has written and toured several different thematic shows celebrating the Great American songbook. Dina has released five recordings, earning international acclaim for her cd project "I'm In The Mood For Love" featuring the lyrics of Dorothy Fields. "This is arather addictive recording…" noted London's Jon Aldous, host of the Dorothy Fields Website. KPLU'S "Jazz Northwest" DJ Jim Wilke praised her voice as "warm and inviting, fresh and original," and included her recent CD, "My Romance", on his "Best of the Northwest" list.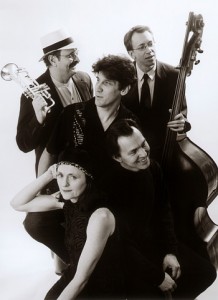 Based on Vashon Island, a short ferry ride from Seattle–hence the name–Island Jazz Quintet (IJQ) is a popular Pacific Northwest band with a captivating live show and three CD releases, all of which have received critical acclaim and extensive national and international airplay. IJQ performs in the Seattle area, having appeared at countless summer music festivals and concert series. The quintet also performs at local coffeehouses and clubs while traveling engagements have taken them as far as China and Mexico. Whether digging up an obscure relic, debuting a new tune–about half the material is original–or delivering a take on a favorite Bossa Nova, IJQ is full of talent and surprises.
Weekend music in the Commons begins at promptly 7:30 and is always FREE and open to the public.  Come a little early to grab a table and some dinner. The Commons fills up fast!
Thank you to Madison Marquette and our community music sponsors. If you or your organization are interested in sponsoring an evening of music in the Commons, please contact Constance Perenyi at [email protected]