This Sunday, May 14th from 10 AM to 2 PM marks the return of the Lake Forest Park Farmers Market for the season, and it's going to be a great one!
You won't want to miss opening day and your chance to catch up with your favorite vendors while saying hello to some new ones. From row crops to eggs and meat, hot foods to baked goods, adult beverages to tasty sweet treats, the market will have everything you love and more.
And needless to say, the market is the perfect place to get your gorgeous Mother's Day floral bouquets with something beautiful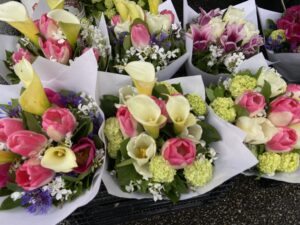 for every mom in your life. The flowers from Long Farm, Yang Lee Yao & Angeng Chang Garden, and Yeng Garden will be simply spectacular!
Among the many popular returning vendors, you'll find great produce from folks like Alvarez Organics, Bautista Farm, Garden Treasures, Martin Family Orchards, Sidhu Farm, and Well Fed Farm. Others like Gypsy Rows and Hayton Farms will join later as their crops come into season.
If it's specialty items you want, the long list includes Brown and Toasted, Cascade Valley Farm (formerly Rainier Salsa), Everything Elderberry, Holmquist Hazelnuts, La Pasta, The Mediterranean, Pete's Perfect Toffee, Pure Fungal Fruits, and Smith Brothers Dairy. Plus adult beverages from Lopez Island Vineyard, Greenwood Cider, and Tin Dog Brewing.
And don't forget the catch of the day from Wilson Fish!
Joining the market this year will be a number of new vendors including Alpenglow Cocktail Company, Golden Girls Honey and Hives, Happy Cat Microgreens, Honest Mocha Coffee, Kettle & Pop Kettle Corn, Pupeli Dog Treats, and Seeking Ferments. The market will also welcome two new bakeries, Cake and More alternating weeks with Flutterby Sweets and Treats, plus the return of EF Produce and Salt Blade Meats.
If you're looking for something ready-to-eat, stop by Patty Pan, Ola Mae's BBQ, or Seattle Pops. Yum!
The market will also include some special crafts vendors over the first few weeks prior to the arrival of the final seasonal produce vendors. But be warned, many will be there for one day only, so you won't want to miss a day.
Opening day is always a wonderful celebration, so be sure to stop by.
And if you love the Lake Forest Park Farmers Market…
Or any of the hundreds of other free events hosted by Third Place Commons each year, don't forget to get your tickets to the "Back in the Commons Again" Annual Community Breakfast.
This popular community event raises vital operating funds for the LFP Farmers Market and other programs of Third Place Commons. Get your tickets here to support the LFP Farmers Market.
The LFP Farmers Market is a program of Third Place Commons, which has been fostering real community in real space for over twenty years through the farmers market as well as a safe, welcoming gathering space and hundreds of free public events each year. The market takes place in the parking lot of the Town Center at Lake Forest Park, located at 17171 Bothell Way NE at the corner of Bothell Way NE and Ballinger Way NE. See you at the market!