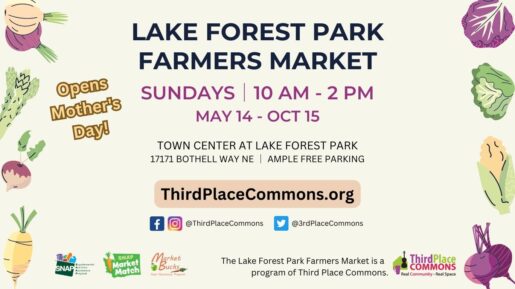 Mark your calendars for Sunday, May 14th, which is both Mother's Day and Opening Day for the Lake Forest Park Farmers Market season!
Mother's Day wouldn't be complete without the spectacular flowers of the LFP Farmers Market, and you can count on the market to have a magnificent assortment of perfect bouquets for every mom in your life. Better yet, bring Mom down for a visit to the market, a perfect family outing.
As always, the market will be jam-packed with loads of your favorite vendors and some new friends, too.  Stay tuned for updates on this year's vendor roster and get ready for another fabulous season!
Remember that SNAP benefits, WIC and Senior benefits, and Market Bucks are always welcome at the Lake Forest Park Farmers Market. And this year, SNAP Market Match will provide up to $25 per market day in matching funds for SNAP recipients to access the best of healthy, farm-fresh fruits, vegetables, and veggie starts.
So don't miss the fun on May 14th and every Sunday from 10 AM to 2 PM. The market is located at 17171 Bothell Way NE in the parking lot of the Town Center at Lake Forest Park.
And if you love the Lake Forest Park Farmers Market…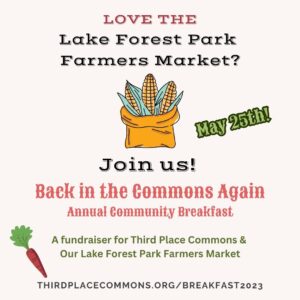 Don't forget to get your tickets to the Third Place Commons Back in the Commons Again Annual Community Breakfast. This beloved community event is a fundraiser that raises vital support for Third Place Commons and the LFP Farmers Market. Get your tickets here to support the LFP Farmers Market.
Third Place Commons – a community supported 501(c)3 nonprofit organization – has been building real community in the heart of Lake Forest Park for over 20 years. In addition to presenting its largest program, the Lake Forest Park Farmers Market, Third Place Commons also fosters real community in digital space with TPC At Home programs. Learn more at ThirdPlaceCommons.org.