With the start of June in the Pacific Northwest, we begin to pine for summer. Outside, it's mostly warm, but not quite dry enough to enjoy the great outdoors at its best. And for that reason we are superbly lucky to have the Third Place Commons at our disposal! While indoor campouts, bonfires, and baseball might be pushing it, we've certainly got space enough to dance and mingle with friends. And if you feel like a picnic, you can always throw down a tablecloth and feast on delicious Honey Bear sandwiches, all while taking in some of our top notch performances.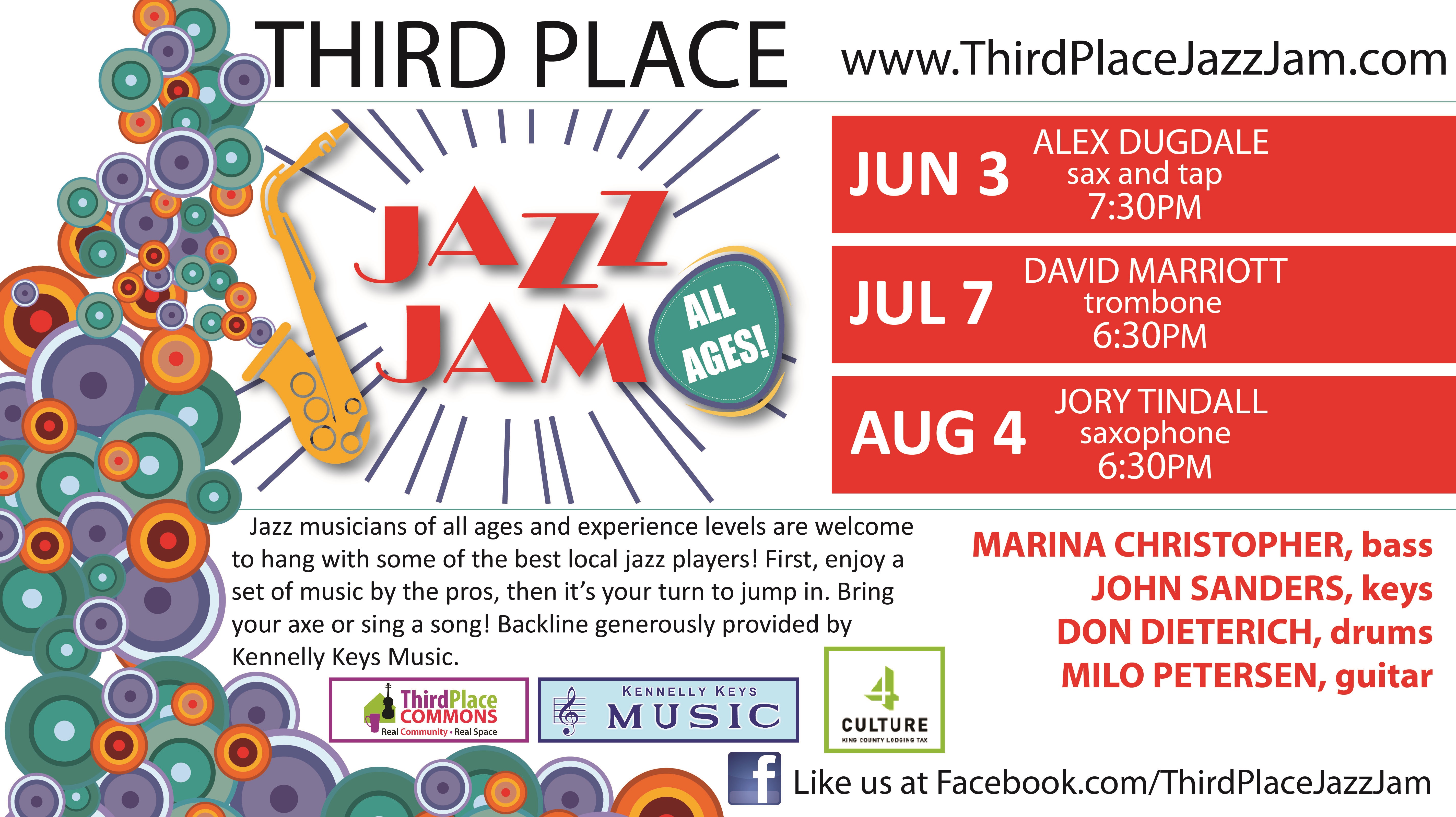 First up this month, on Friday June 3rd we launch our all new series The Third Place Commons Jazz Jam. Jazz musicians of all ages and experience levels are invited to hang with some of the best local jazz players. First enjoy a set of music by the pros, then it's your turn to jump in!  Bring your axe or sing a song!
You won't want to miss this Friday's Jazz Jam launch featuring sax and tap extraordinaire Alex Dugdale. After an initial Friday, we'll move this event to monthly first Thursdays beginning in July. Upcoming Jazz Jam dates include July 7th and August 4th. This series is supported, in part, by an award from 4Culture, and backline is provided by Kennelly Keys Music.
But the music doesn't stop there! Our Friday and Saturday night music series will keep you dancing all month long. If you need to tune up your dance shoes, join us for the open swing dance lesson with local dance instructor Charles England at 6pm on the Saturday the 18th, followed by an evening of dancing with Portage Bay Big Band. (And make sure to check out Charles' summer East Coast Swing Lessons at the Edmonds and Kirkland Park Departments.) Then keep those dance shoes jumping with Third Place favorites such as the stompin' boogie woogie of Two Scoops Jazz Combo on Saturday the 25th.
Yep, we've got something for everyone in June. Come dancing with Moonlight Swing Orchestra on Saturday the 4th, swing with Rainy City Riff Raff on Friday the 10th, rock out to the Rockabilly/Country of The Honkey Tonk Sweethearts on Saturday the 11th, and take in the worldly jazz of Scott Cossu on Friday the 24th.
With all that dancing, you may want to take a breather on Friday the 17th when local favorites and nationally touring artists, The Ian McFeron Band, take to the stage to play an original set of Americana/Folk inspired tunes. Ian's songwriting has drawn comparisons to John Lennon, Tom Petty, Bob Dylan, David Gray and Ryan Adams among others.  Weaving together a variety of popular styles, McFeron explores traditions ranging from electric-rock to gospel; from acoustic-pop to Americana, blues and swing.
And while you're at it, don't forget to check out our community performers. On Sunday the 12th we have a new sort of dueling pianos. Well, maybe not. But we do have two back-to-back piano recitals for you.  At 2 and 4 PM, piano students of Helen Zhou and Marilee Eckert will share the results of all their hard work over the past year.
Then the popular Milner Family Fiddles make their bi-monthly brunch appearance on Sunday the 19th. (Weather permitting, the Milners might move out to the Farmers Market for this appearance, so be sure to check the calendar as the date nears.)
In other words, while the weather heats up slowly outside, things are heating up fast at Third Place Commons. So we'll see you at the Commons!