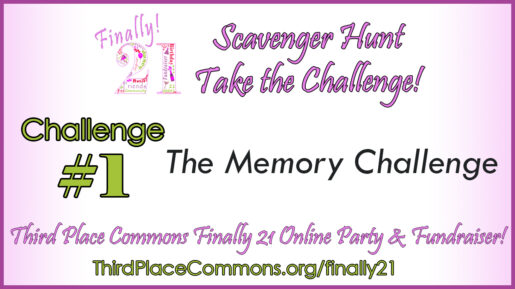 Our Third Place Commons Finally 21 Online Party and Fundraiser is just under a month away. So to warm up for the party, it's time to "Take the Challenge!"
Yes, we're celebrating our 21st birthday this year and our beloved Lake Forest Park Farmers Market is turning Sweet 16. And what better time to have a party? Especially one that will raise vital funds to support the Commons and the market while keeping things fun, fresh, and fast!
Each week from now until the big party on Saturday, March 6th, we will send you on a search for something fun to get you in the party spirit. From the Commons to the LFP Farmers Market to your own personal walk down memory lane, this scavenger hunt will prepare you well for the festivities to come.
Challenge #1: THE MEMORY CHALLENGE
Find something that evokes a fond memory of Third Place Commons. Perhaps it's your LFP Farmers Market shirt (don't have one? order it here), a picture from a performance, or a selfie of you at the Commons. Maybe it's something from the kids' costumes while trick-or-treating at the Commons, a game you played with friends, or an artwork you made while hanging out? Whatever it is, you'll have an opportunity to share during the party!
Tickets come in two options. Standard Party Passes are $25 per person, or you can grab a Party Hearty Pass for $50 per person and get your choice of a Commons or farmers market t-shirt (two color choices for each) along with your party access. (Most options come in sizes XS to 4XL.)
Plus, if you order your Party Hearty Passes by this Friday, February 12th, you'll get your shirts in time to show them off at the big event! So get your party passes here. (See our event page for more on the t-shirt options including pictures, colors, sizes, etc.)