Scott Cossu "Jazz Pianist" – Friday June 12 @ 7:30
Smilin' Scandinavians "Polka" – Saturday June 13  @ 7:30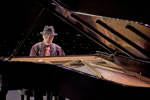 Affectionately referring to his music as Heavy Mental or Cosmic National Geographic, Scott is one of the grandfathers of the New Age scene, and he was labeled a "jazz luminary of the future", by Billboard Magazine.  Much of Scott's work exhibits departures from the New Age field and includes a melodic blend of jazz, classical and ethnic influences.  Scott is an internationally known, composer, pianist and recording artist.  Don't miss Scott Cossu on Friday June 12th.
The Smilin' Scandinavians
, widely regarded as Seattle's #1 polka band are back in the Commons this Saturday, June 14th.  The band has been around since May 17, 1995, when bandleader Toby Hanson got a group of his friends at Cornish College of the Arts to form a polka band. Since that time they've built a reputation as one of the Northwest's most fun and entertaining polka bands. Smilin' Scandinavians are well known for their mix of Midwestern polka, Scandinavian folk, traditional country western, Dixieland and big band swing. Besides being a highly-regarded dance band, the Smilin' Scandinavians are also a top-notch show band, mixing in humor and unpredictable antics to keep even the grumpiest crowd smiling. Whether playing at one of the nation's top polka festivals or taking the stage at a county fair, the Smilin' Scandinavians are always happy to entertain with some good, toe-tappin' music.
The name "Smilin' Scandinavians" was inspired by both The Happy Norwegian Myron Floren (of Lawrence Welk Show fame) and pioneer polka performers The Six Fat Dutchmen. Many people find the notion of smiling Scandinavians odd since Scandinavians have a well-deserved reputation of dour stoicism. The band does all it can to show just how much fun Scandinavians are capable of.
As always, music and dancing begins promptly every Friday and Saturday evening at 7:30pm
Thank you to our Madison Marquette and our community's music sponsors.  If you or your organization are interested in sponsoring an evening of music in the Commons, please contact Constance Perenyi at [email protected] for more information.