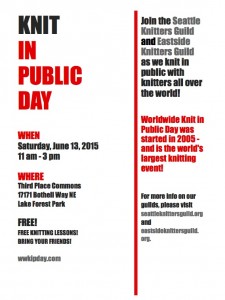 Oh what fun! On any given day, there are more knitters in the Commons than you can shake two sticks at – make that needles.  Morning, afternoon, and evening groups of creative people make Knitting in Public a regular occurrence, but this coming Saturday is a special occasion
On June 13th, from 11 am to 3 pm, the Seattle and Eastside Knitters Guilds invite everyone to Worldwide Knit in Public Day.  Enjoy free how-to knit lessons, patterns, information about local yarn stores, and learn how to get involved with the Guilds.
And even more special, you'll have a chance to see another group of creative people in action as members of NW Polymer Clay Guild work with their versatile, colorful medium from 9 am to 5 pm.  Clay and fiber, and a lively day in Third Place Commons!