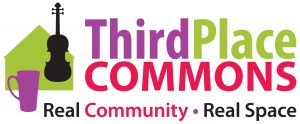 December 2016
As 2016 draws to a close and we begin to celebrate

our season of giving and gratitude at Third Place Commons*, we give thanks for many things – and you are chief among them!
After hosting over 1000 free community events this year, we are enormously grateful for the dozens of community nonprofits, agencies, schools, and local, small businesses with whom we have partnered on events to maximize their impact, while also enriching the experience of our Commons Community. We likewise give thanks for the hundreds of performers (professionals, amateurs, and students alike) who have graced our stage with music and dance of every kind – from swing and jazz to folk and R&B, from hula and Irish step-dancing to ballet and belly dance. (Catch up on this month's offerings here.)
Of course, we always give thanks to our remarkable farmers and vendors that make our Lake Forest Park Farmers Market such a wonderful place, as well as to the generous donors who help fund our Market Bucks food assistance program for low-income neighbors in need. And we're thankful as well for the small groups that converge in our space every week to play games, speak different languages, create art, learn and play with their kids, discuss books, and build fellowship through real community in real space.
Perhaps most of all, however, we are grateful for the thousands of individuals like you who have become our Commons Community. You have gathered for our events, engaged with friends and family, attended our performances, spun across the dance floor, shopped the Farmers Market and Crafts Fairs, and helped our Commons Community to thrive through your presence and participation.
Indeed, it is your participation – and your generous support – that provide the lifeblood of this vibrant community.
You
are the reason that Third Place Commons pops, bops, bubbles, and fizzes
with music, dance, art, laughter, play, quiet study, individual industry, and shared community.
Your gift of support ensures that Third Place Commons remains not just the home to hundreds of free events each year, not just the presenter of our beloved Lake Forest Park Farmers Market, but also a space that is safe, welcoming, and accessible for one and all
.Perhaps now more than ever, your Commons Community is here to support you. Won't you join us in supporting the Commons in return?
Please give generously to support your Commons Community

, a place like no other, the place that you make possible.
Warmest Regards,
Amy Whittenburg                Chuck Paulsen
Executive Director                 Chair, Board of Directors
P.S. On a personal note, I want to share that since I came on board last spring as the new Executive Director, I've been deeply touched by the warm reception I've received from so many individuals. Even more, I've been dazzled by the effusive words of support I've heard time and again about the critical role that the Commons has played in building a real sense of connectedness and breathing new life into our shared community. I want to thank you all for that support and tell you that your words have made me prouder than ever to be a part of an organization that impacts our community so deeply. Thank you! – Amy
P.P.S. Don't forget that when you make your 100% tax-deductible gift online at ThirdPlaceCommons.org, you can also find blog posts, a full calendar of events, and more to keep up with everything happening at Third Place Commons. You can also Like and Follow us at Facebook.com/ThirdPlaceCommons to keep up an all the latest and greatest in Commons news and happenings!
Thank you and see you at the Commons! 
*Friends of Third Place Commons (aka Third Place Commons) is a community-supported 501(c)3 nonprofit organization. All donations are 100% tax-deductible to the full extent of the law.