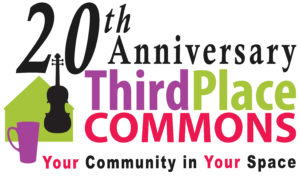 On the eve of a new decade, I invite you to join me in celebrating an auspicious occasion. In 2020, Third Place Commons will celebrate its 20th anniversary as a nonprofit organization creating real community in real space. That's 20 years of fostering a vibrant, connected community where we engage, build, and thrive together.

Will you join me in marking this momentous occasion with a gift of support? 
As one of the founding board members, I was there when Friends of Third Place Commons was first formed nearly two decades ago. I have been so proud to see this organization grow from its early beginnings as the one-time offshoot of Third Place Books to what it is today – a vital, independent nonprofit organization that fosters and strengthens our community through hundreds of free events each year, and through the Lake Forest Park Farmers Market.
The Third Place Commons commitment to "real community in real space" is profound. In an era when many find "online communities" with virtual communication to be more and more prevalent, but less and less satisfying, Third Place Commons gives us something real.
Third Place Commons creates opportunities for us to meet, talk, dance, laugh, strengthen skills, develop ideas, and build bridges together. Face to face in the real world. It's not just real community in real space. It is our community in our space. Third Place Commons belongs to us all, and we are stronger for it.
Your gift today can help ensure that this Commons community continues to grow ever stronger into the future.
In 2016, I retired from the board after nearly 17 years, but I remain proudly involved with the organization – through the annual Secret Gardens of Lake Forest Park event, as a weekly shopper at the farmers market, as a table host at the annual fundraising breakfast, and of course, as a donor.
I stay so involved because I remain a believer in the fundamental premise that we are made better, our lives are richer, our connections are deeper because of Third Place Commons.
Third Place Commons supports our community each and every day as a gathering space, as a no-cost performance and event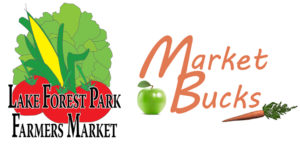 venue, and as a presenting partner to our local agencies and organizations. It even nourishes our good health through the Lake Forest Park Farmers Market and the locally funded Market Bucks program, which helps low-income neighbors access the fresh and nutritious bounty of the market.
Whatever your age, background, or interests, Third Place Commons offers something for you. From infant and toddler play and learn sessions to senior mahjong Mondays… from foreign language conversation groups to tai chi… from weekly live music and dancing to monthly Commons Art-Ins… the opportunities to engage and connect are virtually endless.
Stage performances give local students and local artists a chance to shine while providing partners like schools, music and dance studios, the LFP Library, and many others an opportunity to connect with larger audiences in the Commons. And civic programs like green fairs and candidate forums provide folks with the information they need to make informed decisions.
All of this is about community. Your community in your space. And just as you depend on your Commons community, the programs and space that you value so much depend on you, your participation, and your support.
As the organization prepares to celebrate 20 years of joyful community building, please join me in making a generous gift that both honors the occasion and ensures a bright future for our shared Commons community.
With gratitude,

Ros Bird
Co-Founder and Former Chair,
Third Place Commons Board of Directors