This coming Saturday,  May 2nd, Third Place has you covered!
Love Third Place Books?  Celebrate Independent Bookstore Day with your very favorite booksellers from 9 am to 5 pm.  There is a lot going on, and you can check out the full schedule here.  Just a glimpse into activities:
FREE DRIP COFFEE – Honey Bear will be serving free drip coffee all day, and there will be breakfast treats provided for the first 50 customers.
SCAVENGER HUNT – check in at our info desk and receive an in-store scavenger hunt sheet, return
your completed sheet to info and win a prize! Scavenger hunt ends at 5pm.
EXQUISITE CORPSE WRITING PROJECT – In celebration of Independent Bookstore Day, we are calling
all writers to be part of our Exquisite Corpse Writing Project, a collective story written by Third Place
customers. Each writer will add to the composition by adhering to only one rule: they must use the
previous collaborator's contribution as inspiration. The result of this collaborative effort will be a book
published and printed by Third Place Press. If you are interested in lending your words and
imagination to the Exquisite Corpse Writing Project register at the Third Place Books cashier.
Registration is $10 and closes Friday, May 1st.
PRIZE WHEEL – spin & win with every purchase until 5pm. Prizes include advance copies of books, gift
items, coupons and more!
3pm – BOOK SWAP
One of the most satisfying aspects of bookselling is putting the books we love into the hands of the
right readers. Now you get to share your favorites, and take home one of someone else's treasures.
We will provide some great books to get things rolling, so don't worry! There will be a good selection.
Feel free to ask others about the books you see – they are book lovers too.
How does it work?
-Bring 2 books that you have read and enjoyed.
-Check in with the bookseller in the bookstore Den.
-Take a bookmark and write a one-sentence pitch for your book, telling others why you loved it.
-Select one book from the swap to take home.
The leftover books will be donated to the King County Library for their fundraising book sales.
4pm – CAKE Join us for a slice of cake and mingle with fellow book lovers in the bookstore Den.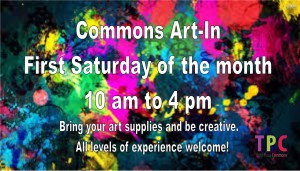 But wait!  There is a lot going on in the Commons as well.  It is the first Saturday of the month, which means it's time for our Art-In. Come make art at this free, drop-in creative time for drawing and painting artists at all levels of experience. BYO art supplies (no oil paints/solvents, please). Look for the plastic-covered tables in the Commons.
And then, from 1 to 4 pm, you can shimmy on up to the stage to enjoy a rite of spring in the Commons.  This is the 5th annual Springtime Belly Dance Hafla.  Enjoy beautiful costumes, amazing dancers, lively music, and a whole lot of fun.