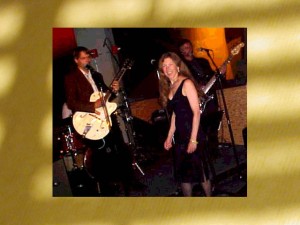 Dance out those cold and windy blues on Friday night in the Commons, with Stickshift Annie. Originally from the Midwest, Annie Eastwood settled in Seattle more than 20 years ago. She has been singing blues and ballads ever since her coffee house days at Kent State. Her repertoire features straight ahead rockin' roadhouse blues, to smoldering slow burners, and swing tunes. Annie's vocals combine elements of blues and jazz with a unique sultry, sensitive tone that she can shape to rock the house!
The Seattle Women's Jazz Orchestra (SWOJO), showcases many of the finest female jazz artist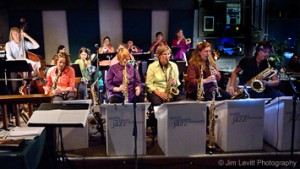 in the region. SWOJO proudly features the original music of many regional and international composers and arrangers, including Jill Townsend, Hazel Leach, Robin Holcomb, Nelda Swiggett, Ann Reynolds, Leigh Pilzer, Patty Darling, Jessie Smith, Mathilde Grooss Viddal, Dr. Jennifer Bellow, Jihye Lee and musical director, Dr. Daniel Barry.
Join SWOJO on Saturday evening for their Jazzy Holiday Concert in the Commons.
Music and dancing begin promptly at 7:30 every Friday and Saturday evening.
Make sure to arrive early to grab a seat and some dinner!   The Commons tables often fill up quickly!
Thank you to our community music sponsors. If you or your organization are interested in sponsoring an evening of music in the Commons, please contact Constance Perenyi at [email protected]