At this year's annual community breakfast on March 8th, we presented the annual Friends of the Community Award to the well-deserving Diane Hettrick, who founded the Shoreline Area News in 2009 and has been dutifully running and editing it every day without fail — and without compensation — since then!
In honor of the occasion, local community member, and fan of Diane's (aren't we all!?!), Jean Monce Bryant penned a wonderful poem to celebrate Diane and her remarkable gifts to the community. We are delighted to share that poem with you here:
OUR MOST HONORED GUEST – DIANE HETTRICK
And now we turn our attention
To our most Honored Guest
I think for sure we all agree
She is the Very Best
She works so very tirelessly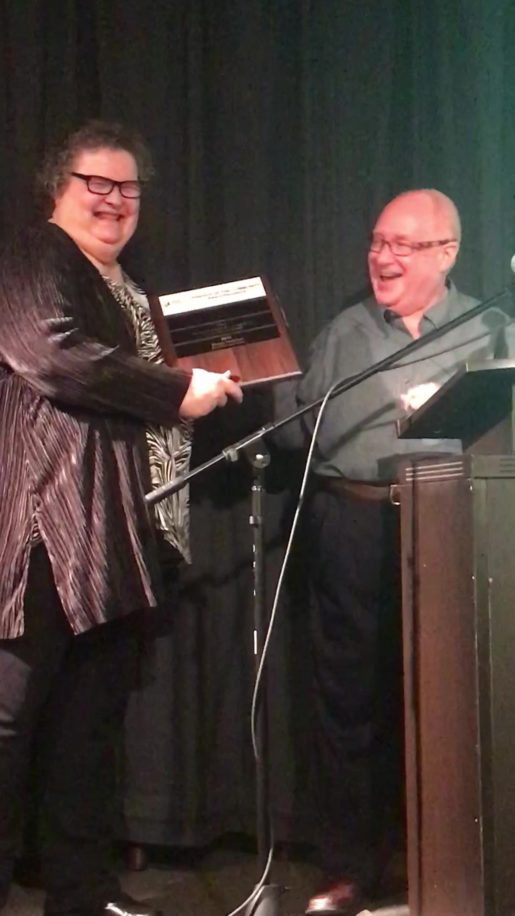 To bring us news each day
And we just open up to read
What she may have to say
She is so very thoughtful
She is so very kind
She opens with a lovely flower
Or scene to ease our mind
For some news may be jarring
It is not always kind
But she sets a high standard
Great heart and a great mind
You know in Greek Mythology
DIANA is the Best
She's known as the GREAT HUNTRESS
She outperforms the rest
Well we must say our Honored Guest
Her aim is oh so true
She has a real nose for news
It comes to me and you
And can you even comprehend
It's so hard to believe
That SHE POSTS ALL THE COPY
I can't even conceive
While we may read or watch TV
Or even fall asleep
She has a real commitment
A goal that she does keep
To bring the news to us each day
To bring a word of cheer
A cartoon or a poem thrown in
Her kindness is quite clear
She even goes the extra mile
To reunite the lost
She'll step right in and work it out
She does not count the cost

And speaking of expenditures
I want to make it clear
She gets no bounty for her work
IT ALL IS VOLUNTEER
Oh yes I know I hear you gasp
For I did that as well
To know her dedication/aim
It truly casts a spell
She sets a real high standard
She will not print what's mean
She will allow divergent views
Her mind is oh so keen
She covers sports and politics
She weaves it all together
She lets us know what's going on
She even covers weather
The Greeks may have DIANA
But we are blessed by you
And we are just amazed and awed
By what for us you do
Magicians have a special trick
The HAT TRICK is their best
Well I can say Ms. HETTRICK
You out-perform the rest
And we are oh so grateful
Our hearts for you do swell
You keep us all so well-informed
With all the news you tell
They say that what we give away
If we are kind and true
It will come flowing back ten-fold
That's what we wish for you
The Greeks may have DIANA
But we are blessed that's true
The Shoreline News it is the Best
And that is Thanks to YOU!!
---
Thank you to Diane for all your wonderful contributions to our community! And thank you to Jean for sharing your time and talents to honor Diane in this special way!