THANK YOU to everyone who joined us to celebrate at our Finally 21 Party. 
If you missed the party, or were too busy partying and missed your chance to give, you can still make a gift to help sustain Third Place Commons and the Lake Forest Park Farmers Market. Click here to make a gift. 

---
It's 2021, Third Place Commons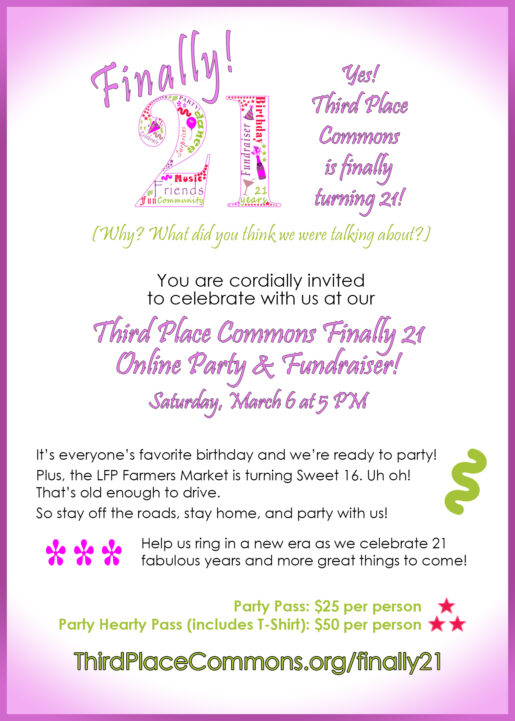 is turning 21, and it's officially time to celebrate!
Join us for our
THIRD PLACE COMMONS FINALLY 21 PARTY! 
Saturday, March 6
5:00 – 6:15 PM
Oh, and did we mention the LFP Farmers Market is also turning Sweet 16? It's a big year!
Party Pass: $25 per person
Party Hearty Pass
(includes T-Shirt*):
$50 per person
*Wear your support with pride when you get a Third Place Commons or LFP Farmers Market T-Shirt with your party pass. See below for details. 
Join us as we celebrate 21 fabulous years of Commons Community and look ahead to more great things to come. Laugh with us, party with your friends, "return to the Commons" through musical performances, and support the Commons and the market you love! 

Pick a Party Room!
We'll kick things off with social time for folks to visit. So when you buy your party pass, be sure to tell us who invited you or if you'd like to request to be in a party room with someone in particular!
Don't have anyone in mind? No worries! Just pick a room and drop in. Or room hop! Have fun!
Or if you prefer not to chat, no problem! We'll have a video room set-up just for folks who would rather chill quietly. 
Take the Challenge! Starting in February, watch our social media & emails for fun, weekly challenges leading up to the big event.
Challenge #1: The Memory Challenge
Challenge #2: The Music Challenge
Challenge #3: The Market Challenge
Challenge #4: The Mug Challenge
Prefer to purchase your party passes BY MAIL? Print and complete our Third Place Commons Party Pass Order by Mail Form.
*More about the Party Hearty Pass with T-Shirt 
Show the world how much you love Third Place Commons and the Lake Forest Park Farmers Market! With a Party Hearty Pass for $50, you get your choice of a Commons or a market t-shirt along with your pass to the festivities.
Each shirt is available in two color options and most options are available in sizes XS-4XL. Mouse over "More Info" on the landing page for full details. Be sure to select color & style on the first page, then indicate size on the check-out page. 
All shirts will be delivered to your home through contactless delivery. Local orders only. (Note: Shirts will be delivered after the event.)
Questions? Email Christa Thielen at [email protected] for assistance.
Thank you to our sponsors!
We gratefully acknowledge the support and partnership of our event sponsors.
Platinum Sponsors