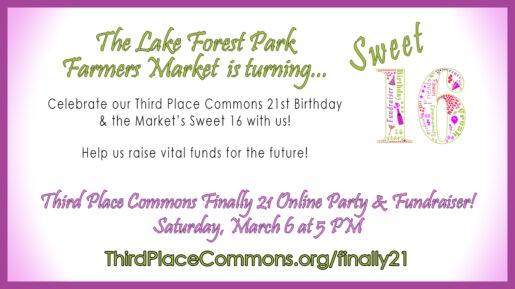 Third Place Commons is turning 21 (finally!) this year, and the party is on! In fact, the Third Place Commons Finally 21 Online Party and Fundraiser is just around the corner on Saturday, March 6th at 5 PM. But, of course, Third Place Commons isn't the only one enjoying a big birthday this year.
The Commons' largest program, The Lake Forest Park Farmers Market opened in 2005, which means the market is celebrating its Sweet 16 this year! Two big birthdays, two great reasons for a party. And with the big event coming up, it's time for Challenge #3 in the weekly Finally 21 scavenger hunt.
Challenge #3: THE MARKET CHALLENGE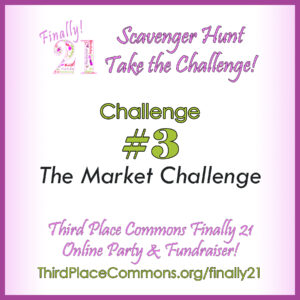 Each Sunday during (non-COVID) market season, the LFP Farmers Market hosts over 40 vendors and around 7,000 shoppers per week. The market means a lot to a lot of people, and we all have our market favorites. So what do you love most about the LFP Farmers Market? Think of your favorite thing to get from the market, or your favorite vendor. What do you love and why? You'll have an opportunity to share during the celebration!
By the way, if you missed the first two challenges, you can take the Memory Challenge here and the Music Challenge here.
Third Place Commons remains a busy hub of community through these challenging times thanks to TPC at Home programs like the upcoming Comic Book Reality: Superheroes and the Power of Representation on Wednesday, Feb. 24th. And the farmers market will open on schedule again this coming Mother's Day, as it has every year since 2005.
Your support is the key to maintaining community in these isolating times, and critical to sustain Third Place Commons until the indoor space can once again reopen for everyone.
Help raise vital funds to support Third Place Commons and the Lake Forest Park Farmers Market. Get your party passes for the big event here.
A  big thank you to our Platinum sponsors Republic Services and the Town Center at Lake Forest Park (owned by Merlone Geier Partners), whose ongoing partnership and support are greatly appreciated.